The electrician uses different types of tools as they have to deal with extreme power supply. In addition, they have to use different types of machinery, basic tools, devices to complete the task in a smart way. Therefore, it is important to choose the right tool. If they fail to use the right one, it might result in severe problems. This is the reasons why electrician is trained to use electrical safety standards and use safety equipment. To prevent the chance of any potential hazard, they should install, maintain or try to operate the electric currents and other tools properly. Read on to know more about some important electrician tools that are of utmost help for an electrician.
List of tool names required by an electrician
Some essential electrician tool is mentioned in the following part of the article.
Retractable trimming knife
This knife is also known as Stanley knife that has plenty of applications for an electrician. Different types of blades can be fixed in it. It has sharp ends that make it easy to cut the items required in an electrician's work.
Also, the size of the tool makes it a portable one. The blades can be replaced, and it can be folded within its handle.
Uses:
A trimming knife can be used for cutting carpet, rope, plastic, card, plasterboard, and others.
It can be used to remove cable insulation
It can be used to get rid of burrs from aluminum
Stanley Combination Plier with 8-inch Single Color Sleeve
It is important that the insulated pliers of an electrician should be an insulated one. It would help to maintain safety measures. Stanley is one such popular brand famous for its tools.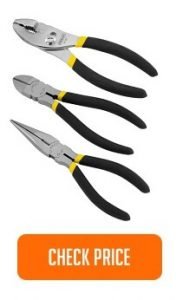 In this regard, it is advised to use good quality of VDE tools that would help when doing electricity related tasks.
Cutting and gripping are one of the two main functions of this appliance. The handles are prepared with good quality such as the user get a comfortable grip.
Uses:
The plier is used to open wires or fold wires
The cutting edge of the appliance making it easy to cut wires and other materials
A quality set of the screwdriver is worth purchasing. Make sure that you opt for the right set of a screwdriver. This set includes a variety of head types including a range of shaft lengths. The electrician will get different types of screwdrivers in the set.
Uses:
The long screwdrivers help to undo tight screws
The long shaft is used to store torque
This can be used for making electrical connections perfectly
Mole grips
This appliance is also known as locking pliers which is a versatile one. You can easily get it in the online market. Try to get a quality one that is suitable to work effectively. It has a locking mechanism that can be used to hang on bags or tools used in the workplace. In addition, it helps to keep both your hands-free when you are working. So, an electrician can finish his work in a smart way. These hand tools are useful for every electric work.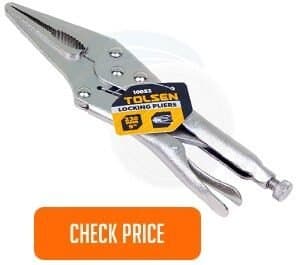 Uses:
This mole grip is used to get a good hold and turn nuts, bolts, and screws.
It provides excellent gripping due to the toothed jaws, and it can be used in headless screws and rounded bolts.
Knipex 09 08 240 SBA 9.5-Inch Insulated Ultra-High Leverage Lineman's Pliers
These are adjustable pliers which are perfect to be used by electricians. In addition, it can be used for blue, yellow and red electrical crimp connectors. In addition, it can also be used for interlocking the connectors properly. You can also interlock terminals with the help of this plier.
The rivet of the plier is made from good quality material so that it can be used for long. Also, the recess located on the back side of the appliance has an oval shaped design. It works best on thick or oval shaped cable making the work easy for the electrician.
In the list electrician tools, this is a perfect add-on. It is easy to pull this fish tape as it made from a good quality item that ensures durability and easy usage.
It has a high-quality case and carrying handles, and it can be used for long. Also, the efficient design of the tool makes it suitable for the electrician to work with this. It offers both easy rewind and unwinds and electrician can work with accuracy with the help of this appliance.
Taparia 1408 Long Needle Nose Mini Plier
This plier is also used by most of the electrician that helps in cutting wires. This appliance is suitable to work within confined places.
The slim designing of the appliance helps it to get into tight places and cavities and cut the wire appropriately. The plier is made from high-grade steel material making it a suitable one to use in electrical works and for the lineman.
Uses:
It helps to retrieve small screws
It helps to insert small wires into terminals
Divinext Non-Contact Voltage Alert Pocket Pen 90-1000V Voltage Detector With LED Light Yellow
This is among the must-have appliance for an electrician. It would help them to maintain safety measures when they are working with electricity connection.
The tip of the voltage detector comes with a neon lamp that lights up when it detects voltage in a certain place.
In this way, you can check for the presence of voltage in cables, light fittings, plaster walls, sockets, and others. You need not to dismantle anything in order to check the presence of voltage. You can trace the electricity flow easily with the help of the voltage detector. In addition to this, you can also detect the break of electricity flow in electric wire and the like. However, before using or working in an electrically charged area, try to check the flow and the presence of electricity in it that would help to prevent accidents.
Here, you can get a set of 8 spanners which are quality ones. These are made of vanadium steel.
In addition, it is coated with good quality of nickel chrome to prevent problems like corrosion or rust. The spanner is designed in such a way that it prevents slippage. The primary use of this spanner is to tighten or loosen appliances or wires at home, office or any construction sites. For turning and twisting the head tip of any wire, this set of the spanner is the best option.
Bosch Electrician Kit GSB 550-Watt Impact Drill Kit (Blue, 77-Pieces)
It is one of the compact forms of drill used by an electrician. It comes with digital multi-meter, insulation tape, and different types of cutter and pliers that can make the work of an electrician simple and easy.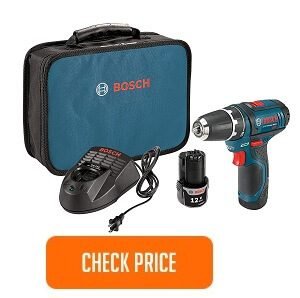 In addition, it comes with an auxiliary handle, dual mode functionality of the drill machine that makes it easy for the electrician. With the trigger lock facility, it is one of the best options for the electrician that would help them. It has a slim and compact design. The drill pack contains 4 pieces of masonry drill bits, 1 piece of insulation tape, one piece cutter, one hammer, plier, screws, walls plugs, 4 pieces of wood drill and others. It is a 550 watts drill machine.
Morakniv Craftline Electrician Trade Knife with Sandvik Stainless Steel Blade and Plastic Sheath, 1.3-Inch
This is a short scaling knife which is used by an electrician.
The handle is made in a comfortable manner such that it becomes easy for the electrician to use it. The angle of the blade of the knife is fixed in such a way that electrician can cut wires and tapes easily. With little practice, the electrician is able to cut wires and cables easily. This is top suited for the electrician and IT workers.
Uses:
It is used for scaling any cable or electrical wire
It can be used to open boxes or cut wire and tapes
Klein Tools Nut Driver with Magnetic Driver and Spring Coil Bits, 7-in-1 32807MAG
Seven sizes of tools come together in this driver. It helps for easy work for the electrician. The handle is made from heavy-duty items along with the shaft. This improves the performance of this appliance. When looking for top-notch performance and durability, this is the choice for an electrician to complete their work in a smart way.
For the demand of professionals, this is a suitable option. An electrician can get it from the online market. Each part of the nut driver is designed in such a way that it becomes easy for the electrician to work with it.
Uses:
It enhances the work of regular nut drivers
It helps to twist tips of nuts, bolts or screws
Dewalt DPG55-1C Dual Comfort Clear High-Performance Protective Safety Glasses with Dual-Injected Rubber Frame and Temples
It has anti-fogging polycarbonate lenses with impact resistance making it suitable for electrical works. It is a lightweight one with top-notch framing and designing that gives comfort when working with an electrical appliance. The padded temples give extra protection from any dirt particles or dust entering your eyes.
It can be considered great value for money, and it is an affordable one. You can get it in different lens according to your needs.
Uses:
The electrician can wear the glasses when going any electrical works
The glass would protect them and keep it safe
Neolight LED Headlamps, Super Bright 5 LED High Lumen Rechargeable Zoomable Waterproof Head Torch Headlight for Outdoor Hiking Camping Hunting Fishing Cycling Running Walking
It is a USB rechargeable neo-light which is used by electricians. The adjustable beam light can be used and focus in a dark area of work as well.
SawIt works as an indicator light. It is waterproof and durable. In addition, it is also comfortable to use. It is a super bright light that can be changed in different light modes. Also, it is safe to work within any location. However, this light is designed in such a way that it is suitable to work within any weather conditions.
After going through the above-said tool list and the kit tools used by the electrician, they should know about the factors to consider when buying these tools.
Buyer's Guide to New Tools for Electricians
Every electrician tools kits are expensive, and so they should be careful about maintaining each of them. Even when the tools are not in use, make sure that you lock them up in order to save them. Also, when buying them, you have to look for the right quality of the material used in the manufacturing of the appliance. This would ensure that you can work efficiently with the help of the same.
You can also buy a locking toolbox in order to store the items carefully. Even if it is a bit expensive, it will help to maintain the tools in the long run. In addition to this, if you get cheaper tools, you might have to replace it after some time. So, there is no need to waste your time and money for poorly designed tools.
Since a lot of brands available in the market, it is important that you get hands on the right one. This would ensure that you can use the appliance for long. When it is an electrician's tool, finding the right one might seem to be a challenging task. Looking for vests for electricians, Check here.
The Final Words
Therefore, whether buying a drill set or knife or any other electrical appliances, it should be of good quality. This would ensure that it does not result in any further hazards when working with these appliances.
Nothing can be better than maintaining safety measures. Though there are limited tools available in the market for the electrician, it is important that you choose the right one. Do not get the ones that might wear out easily. It would be a total loss of money.