Best Cleaning Tool Belts for Daily Use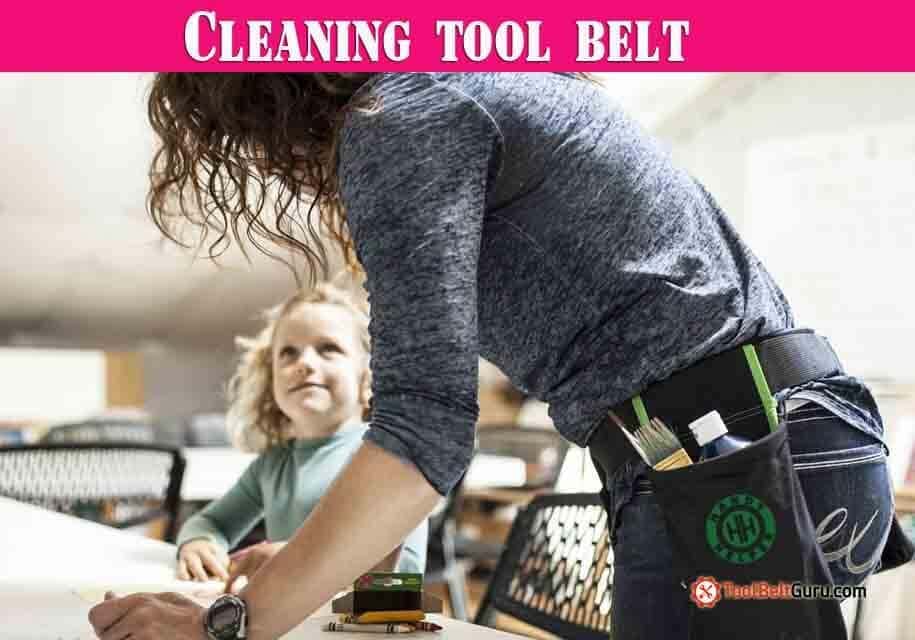 It is scientifically proven that a messy home leads to a messy mind! So, keeping your home clean is, in fact, one of the most important priorities in your life.
To some people, cleaning is more of a passion and a hobby. While some find it a burden to take off their shoulders. You can appoint a maid or a helper in such cases. But, let us remind you- it is an expensive affair! If you can afford to keep a helper or a maid if it is just fine.
 But for those who can't, they can't help it but clean up by themselves.
We here List some of the best cleaning Tool belts available on the Market. 
Top Pick for House Cleaning tool Belt
In a hurry?
If you don't have much time and just want to get a great deal on this fantastic cleaning tool belt, use the links below to quickly find a great price on the Handy helper from the helper brands
The Top 5 Cleaning Belts in the Market
Here is our pick of the best-selling and popular belts for cleaning chores. Cleaning chores apply to those around the home and at work if you are a professional cleaner.
Best Rated Cleaning Tool Belt Comparison
Product Name
Waist"/Size
Pockets
Material
Buy Now

1.Handy helper from the helper brands


(Recommended)

29″-44″
3
Sturdy canvas

Buy This

2.Pink Tool Belt for Women
28″ -44″
6
Synthetic canvas

Check Price



3.The Original Klever House Cleaning tool Belt

(Low budget)

29″- 46″
7
Leather

Buy Now



4.Cleaning Tool Belt, Waistband Size
29 "- 36"
4
Leather

Check Price



5. Tool belt from QEES
29″- 46″
7
600D oxford cloth

Check Price



1. Handy helper from the helper brands
This compact and convenient belt helps in keeping all the tools and supplies right next to you. It helps you to save time at work. Also, it makes cleaning jobs fun and less tedious. This belt from the helper brands is 100% customizable. You can add or remove pouches and carrier bags as per your requirements. This is definitely the handy helper you need for house cleaning.
Things we love
Soft and light to handle
No bulky leather pouches
100% configurable
Add on bags available
Towel/ tool loop
Adjustable waist belt
Made of cotton fabric
Machine-washable
No metal or plastic used in the design
Easy to wear
2. Pink Tool Belt for Women
For all those ladies out there, who would like a feminine flair at work, then we recommend you go for this beautiful belt. The attractive pink color is the highlight of this product and is sure to please any girl! This belt from lipstick tools not only looks good but is also very efficient and functional.  It is definitely a must-have if you want to do your household chores the stylish way! Make sure to check out top women tool belts.
Things we love
6 deep pockets
2 metal hammer hooks
Adjustable waist strap
Strong clasp
Made of heavy-duty material
Available in kids' size
3. The Original Klever House Cleaning tool Belt
This belt from the Klever house is a smart and convenient tool kit for easy cleaning. It can be used for residential as well as professional purposes. This cleaning belt is very durable and lasts for a long time. It enables hands-free cleaning and is perfect for small chores within the household.
Things we love
Made from nylon fabric
Waterproof
Padded for comfort
7 pockets and 3 hooks
Holder for home phone and mobile phone
Washable
Plenty of storage
4. Cleaning tool belt from Farag janitorial
This small-sized and compact cleaning belt is very easy to carry and lightweight. It has a few but very functional pockets. You can carry spray bottles and other supplies in this belt with the utmost ease. The holster belt comes in handy for hands-free and tedious jobs like carpet and window cleaning. It sure does take a lot of effort to maintain carpets and making clean.
Things we love
Affordable and inexpensive
Very compact
Versatile
Lightweight
Easy to wear
Convenient to handle and washable
Lesser but very efficient pockets
This tool belt from QEES comes very much in use for versatile jobs like cleaning and gardening. It has multiple pockets and can store many tools and supplies easily. The belt is ideal for keeping everything organized. This way you can function efficiently on the job. The adjustable belt is fit for all waist sizes.
Things we love
Made of high-quality material
Waterproof and wear resistant
7 variable size pockets
Adjustable belt
Very versatile tool belt
Lightweight
Will not add heat to the body on summer days
Quick release button
Easy to use
90 days guarantee from the supplier
There are people who suffer from back pain and other medical issues. They find it difficult to use a tool belt as all the weight is usually concentrated on the waist and hips. In such circumstances, it is advisable to  a tool apron. This allows the weight of the tools and supplies to be distributed evenly to a large part of the torso. Thus, it is a convenient and easy way to carry supplies in the household set up.
Here, we give a review of the best selling work apron for versatile jobs including cleaning chores.
NoCry Professional Canvas Work Apron
This sturdy and durable cleaning apron from Nocry is made from high-quality canvas material. As a result, it lasts very long and can withstand daily wear and tear. It is ergonomically designed, hence, is very comfortable to wear. It helps to efficiently organize your cleaning tools and supplies as it has many pockets of varying sizes.
Things we love
Made of high-quality canvas material
Waterproof and resistant to abrasions and rough handling
Designed for comfort
16 tool pockets
Padded shoulder straps
Waist size fits up to 55 inches
Suitable for both men and women
Quick release buckle
No strings or straps to tie
Limited lifetime warranty
There are instances when you have to carry more tools and supplies than that can be held in a tool belt or apron. This is usually true for people who are in the professional cleaning business like janitors and such. It is virtually impossible to carry all that they require in a belt or apron. That is when a tool bag or box for cleaning comes in use.
Here is a review of the top cleaning tool bag that is very popular.
Nicholas 22015 15-Inch Collapsible Tote
It is always easy to carry around a soft bag than a heavy duty hard top box. This collapsible tote bag from McGuire Nicholas is quintessentially a toolbox in function but made of a softer material for easy handling and convenience. This open tool tote is sturdy and handy as a cleaning tool bag.  It helps to carry quite a lot of cleaning tools and supplies.
Things we love
Made of high-quality fabric
Well-known brand
14 exterior pockets
Sturdy foam padded handle
Tapered pocket design
Multiuse functionality
Affordable
So, How to make cleaning your home fun and feel less like a chore?
Make it a habit to always clean up messes as soon as they occur.
Break up your home into cleaning zones and clean by each zone.
Assign daily, weekly and monthly routines for cleaning.
Get help from family members to clean up.
Listen to music or podcasts while on the job.
Get smart and innovative tools and equipment for cleaning.
Get a cleaning tool belt for easy access to tools.
Advantages of having a cleaning tool belt
A Cleaning tool belt is a boon when it comes to cleaning the home. Why?
It helps to keep the tools and cleaning supplies in easy reach
It protects the tools from getting lost or misplacing in the process.
You can carry all the necessary tools in handy when required.
It helps to keep tools and other contents organized in designated places
It allows you to carry your phone and other essentials with you while cleaning.
It allows you to move freely and use your hands conveniently for jobs like window cleaning.
Q/A section – On Best Cleaning Tool Belts
How to clean and protect your tool belts?
Tool belts get dirty and nasty due to frequent usage and rough handling. Care should be taken while cleaning your tool belts especially the ones made of leather fabric. You can use a mild cleaner and warm water to gently wipe away the stains and dirt on it. Cleaning belts made from cotton, polyester or nylon are easy to wash and maintain. They are generally washable and can even be cleaned in a washing machine.
Conclusion:
Cleaning tool belts are very helpful in making the chores easy and fun. It takes a lot off from your shoulders (literally!). You can work at ease and handsfree. Always choose the right belt depending on the nature of your cleaning job. Ensure to select the one with enough number of pockets and durable material. You can refer to this buying guide or any other to get to know the latest and leading products in the market.