Tradesmen are very particular about their tools, no doubts about that.  It is solely because their functionality on the job totally depends on their tools. So, all tradesmen, be it, carpenters, plumbers or electricians, make sure to get the best of the tools in the industry. In this guide, we discuss Hilmor tool bags.
Now, it is as important as getting the right tools to get the perfect tool bag or tool box. After all, it is important to efficiently store and access the tools while at work. With the plethora of tool boxes and bags in the industry, how is it possible for one to select the "right" one?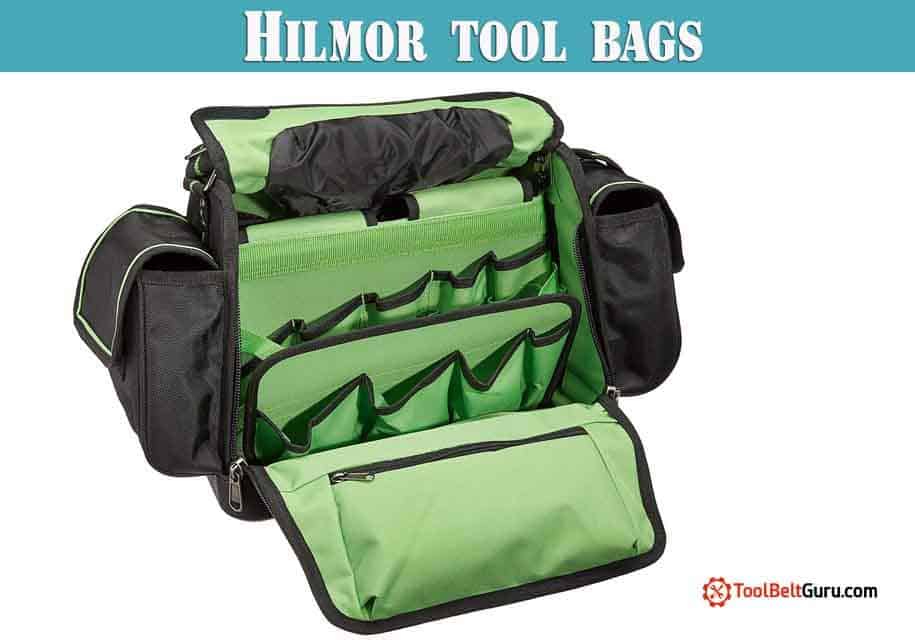 How to select the right tool bag or tool box?
A good tool bag or tool box should:
Be made of high-quality material
Be Very durable
Be Efficient enough to hold all "basic" tools
Have designated spots for tools and devices
Easy to handle
Convenient to carry
Worthy of its price and affordable.
However, there is one single point that surpasses all the other points. That is for the bag or box to be of a well-known brand! There are many well established and best-selling brands in the industry for job site bags and tool boxes.
One of the most prominent of them is Hilmor. The brand has been able to make its mark in the hearts of trade professionals. It goes without saying that Hilmor has been able to do so, because of certain unique characteristics, of course.
So, what makes Hilmor a well-trusted brand in the industry?
This brand is basically been in the business since 1926. In other words, it has come a long way from the introduction of a tube bender to a tool making giant! Hilmor is a brand that was started in Sheffield, England. The brand caters specifically to tradesmen like plumbers, electricians, and HVAC/R technicians.
Hilmor, which is now an American brand, has introduced several innovative and technically skillful tools and equipment over the years., and are continuing to do so. The latest include the Hilmor digital adjustable torque wrench, Hilmor valve core removal tool and the Hilmor vacuum pump.
They make it a point to design tools with features according to customer requirements. All tools are able to withstand the daily pressure as they are made of top-class materials. The industry strength materials used in the construction owes to its durability.
It is safe to say that the contribution of this brand towards the industry of tools and equipment for tradesmen, is literally huge. Not only have they succeeded in creating state-of-the-art tools and devices, but the brand has also spread vast into worksite storage tools like bags and backpacks for tools. Also check tool bags with wheels. 
Hilmor tool bags are of the latest design and very efficient in its purpose. These bags are made of superior quality and never fails to attain its goal.
So, which are the tool bags that are available from Hilmor?
Hilmor Tool center bag
The Hilmor Backpack tool bag
Hilmor HVAC/R Tote bag
Hilmor HVAC/R Refrigerant tank and utility backpack
Hilmor Zipper pouch
Here, we give a review of the two most popular and preferred bags from Hilmor- the tool center bag and the Backpack tote bag.
Hilmor 1839079 TCB Tool Center Bag
The Hilmor brand has not only revolutionized equipment and tools but also has retooled the way of storing and organizing them. This tool center bag is a smart storage and transport solution for tools, especially for HVAC/R tools. It is sturdy and water-resistant since made of high-quality hard plastic. It is extremely comfortable to carry and easy to handle. The Hilmor tool bag is spacious enough to hold all basic tools and lasts for a long time.
Pros
24 pockets – including exterior and interior
Three inbuilt pouches
Two padded side pockets
Water resistant
Padded aluminum carrying handle
Padded shoulder strap
Clear Vinyl ID Window Pocket
Cons
Velcro top flaps wear out over time.
Buy Hilmor 1839079 TCB Tool Center Bag
The Hilmor tool bag is ideal for all tradesmen on the job, especially for HVAC and refrigeration technicians. Check some best review on HVAC tool bags. However, the bag is well suited for other trades too. You can contact the Hilmor technical services to get to know about the warranty details. The product is however not subject to the warranty for losses due to regular wear and tear and damages due to improper maintenance.
Hilmor 1839080 BKB Backpack Bag
It is an amazing organizer and is spacious enough to hold all basic tools on the job. The sturdy bag has a thick bottom and is water resistant as well. But this bag is very easy and most comfortable to carry owing to its padded shoulder straps and back air vent. It is one of the easiest and safest way to carry around your valuable tools and resources.
Pros
19 interior and exterior pockets
Zippered side pockets for safe storage
Metal loop in the design
Sturdy and water-resistant rubber bottom
Can hold up to 50lbs
Padded shoulder straps
Cons
Seen to rip off from the sides when regularly used
Buy Hilmor 1839080 BKB Backpack Bag This Hilmor backpack is very versatile. Hence, is suitable for all kinds of jobs. But, specifically very useful for people in the HVAC or refrigeration technician jobs. Hilmor claims the backpack to be free of workmanship defects and material defaults. However, you can check for the warranty from the Hilmor technical services department if you find any defects on the product.
Similar Products to Hilmor tool bags
People are picking different brands in tool bags for different reasons. Hilmor has succeeded in outrightly defeating several of the leading brands in the manufacturing and design of tool bags, especially HVAC tool bags. However, they also have certain cons that cannot be ignored.
So, we are going to do an abrupt comparison of the top leading competitor bags to Hilmor- CLC, and Veto.
CLC 1539 Multi-Compartment 50 Pocket Tool Bag
CLC or custom leather craft has been in the business for a while now, specifically saying, 35 years! In fact, they emerged as the leading brand in tool bags even before Hilmor did. So, what makes them unique in the matter of producing tool bags?
Pros:
This tool bag from CLC has 50 pockets overall to hold, store and organize tools and accessories. That is quite impressive since the Hilmor bag has only 24 pockets in all. It has a large center compartment for large hand tools like power tools and equipment. The zippered pockets prevent spillage and hence is fit for the safe transport of the tools. The vertical pockets are great for quick access and easy usage of tools and accessories. This is a very durable tool bag and is very popular among HVAC and refrigeration technicians and operators.
Cons:
The bag is not waterproof, while Hilmor bags are made of hard plastic that is water resistant and even fit for any weather conditions, including rainy days.
The bag is heavy even without tools!
Buy CLC 539 Multi-Compartment- Tool Bag

Veto Pro Pac TECH PAC Service Technician Bag
The brand Veto, the American brand, primarily focuses on the production of tool bags for different trades. They are the number one in tool carrying devices or bags and are so for a reason- The high quality and design process. They produce bags that are suitable for HVAC, plumbers, electricians, you name it all. Let's see a review on the product.
Pros:
The veto pro backpack 56 pockets- including interior and exterior ones, while Hilmor backpack has only 19. These pockets are of varying sizes and fit to include even the smallest of contents. The veto pro-Pac's patented center panel is one of the highest quality features of the bag.
It also has 4 storage bays and 4 storage platforms for quick access and efficient organization of the tools and accessories.  The quick release metal hasp is a unique feature and allows access to the rear storage. The EVA thermo-formed padding also has an aluminum hook to hang the bag. These shoulder straps are ideal for an ergonomic grip and are easy to handle the bag because of this.
Cons:
Some pockets are literally useless as they are too small to hold anything.
Few pockets are too deep, hence difficult to access while on the job.
Hilmor may have a limited number of pockets. But all of them are fully functional and fit for easy usage and access. Buy Veto Pro Pac TECH PAC Service Technician Bag
Final word:
Hilmor originally started with the manufacture of tools and equipment for trades. Owing to their success in the field, they later diversified into other areas, like worksite tool storage devices like bags.
Hilmor tool bags and backpacks are continuously striving to outpace other leading brands. Hilmor is a dynamic brand focused on customer satisfaction and hence, is deliberately working to eliminate the defects in order.
Also, it is to be noted that the Hilmor bags are comparatively economical and cheaper than the CLC and Veto pro brand of bags. There are several international distributors for the products, hence, the bags are available quite easily anywhere on the globe.