30 Different Types of Tool Belts – Based on Profession, Material and Design
Tool belts make it easy for individuals to carry items at work and it is important to know types of tool belts. Different sets of tool belt are required by the workers. Depending on it, they have to get the number of pouches in the tool belt. With adequate space to carry the item, the tool belt should be made from high-quality material. This will ensure that the tool belt is a durable one. When planning to buy one, you will come across plenty of options. Also, look for the type in which you can adjust the tool belt.
Below are mentioned some variety of tool belts available in the market. Therefore, you have to get the tool belt depending on your profession and requirement. They are available both in the online and offline market.
There are different kinds of tool belts, and some of them are detailed in the following part of the article.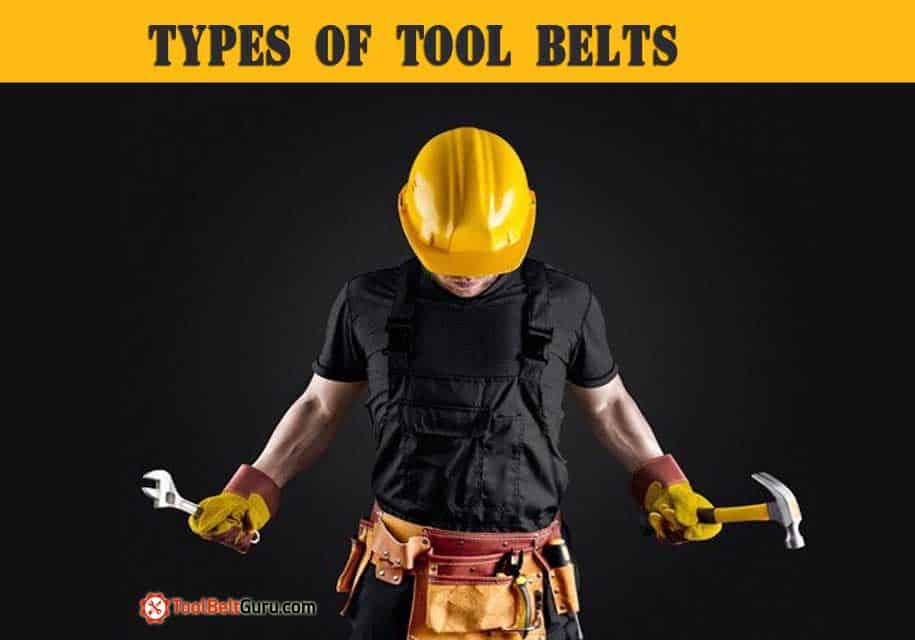 Wearing Pattern
Tool belts can be divided on the way how it is worn. For carrying tools which require weight suspender is an essential choice.Whereas some tool belts are worn around the waist making it easy to carry tool belts. Professionals should be able to carry the items handy when they are climbing or doing the work in the ceiling or roof. Here are one such category and types of tool belts.
1. Suspender
For carrying a lot of items or nails in the tool belt together, suspender type of tool belt is the suitable option. With this bag, the weight can be reduced around your waist. The weight of the items is distributed up to the shoulder. So, you can carry more weight in the tool belt by reducing the chance of any injury. This can also help to save your lower back since you do not have to carry heavy weight together. To fix the tool belt tightly with your body, several adjustment options are available so as you make you feel comfortable when carrying the tool belt with all items in it. By being able to wear a tight bag, the weight of the items gets evenly distributed without chances of any injury.
2. Waist
The tool belts which are tied around the waist are suitable to carry. They are the best suited ones for most jobs. You might find it problematic to carry to belt since it is held on the waist or on your hip portion. Due to this, you might feel some stress on this part of the body when you are wearing the belt for a longer period. In the case of extended use, you might feel some pain. If you have to wear this bag for a longer period or you have to carry a number of items in the tool belt, it is often recommended to opt for some other option that will give you enough support. One of the benefits of using this belt is that it can be customized easily. You can easily get the pouches when at work.
3. Hip
It is one of the best to use as you are able to keep your tools close to your hand when you are at work. This further means that you can easily take out the required tool from the pocket close to you. You do not have to dig deep in order to get the required tool. For freedom of carrying anything in your hand, this belt is the suitable option to carry the items of your need. In fact, this type of tool belt is much lighter compared to others. These hip tool belts may easily hold knives, pruners or other small hammers. But they may not have enough space to carry multiple tools in it. With the help of this hip tool belt, it becomes easy for gardeners to work. It helps ensure that all tools are available near your hand.
4. Pouch
When using a tool belt that goes around your waist, try to use one that has plenty of options for pouches to carry the items. Keeping the tools in different pouches will help you during work at the site. The pouches are fixed on the main body of the tool belt. You can get customized pouches depending on eth size of the pouches that you need. It will depend on the work for which you are planning to carry the tool belt. Also, different pouches come in different sizes, and you have to pick the one that fits your need the best. You should look for the one that is spacious enough and sturdy to be able to carry heavy tools in it.
Check whether the pouches have double stitching on its back or not. This will ensure that the pouch is perfectly tied to the main body of the tool belt without any chance of the pouches coming out. Proper size of the pouch ensures that the tools put inside the pouch should not come out when you are working with the belt. This might also happen when you place the tool belt on the floor with all items in it.
5. Apron
When looking for a tool belt that will protect both your body and clothing, Apron type of tool belt is the safest bet. Heavy canvas is used to design this kind of tool belt. These are comfortable ones. Also, this help to keep you safe when you are working with heavy tools such as nail guns, saws, and other important equipment at the site. The apron tool belt should have plenty of pockets to carry the items so that you do not have use another pouch pocket to carry the required items. The straps of the tool belt around the waist and the shoulder will help to distribute to the weight of the items that you carry in the tool belt.
You also have to check whether you are able to adjust the apron belt easily according to your convenience. To hold the nails and tools in place in the tool belt, the Velcro used in the tool belt should be strong enough, and it should be of good quality to get a good grip on the tool belt. Check also rolling tool bags.
Based On Various Profession
Different tool belts are available for people in a different profession. It makes it easy for them to carry the tools when they are at work. They should be able to carry the tools handy in whichever type of belt they choose to take. Listed are some tool belts according to the job they perform.
1. Electrician's Tool Belt
Since an electrician has to go through several odds, the tool belt should be a good quality one. He might have to climb the pole and carry his tools along. So, it is better if his tool belt has multiple pouches to carry different sizes of tools. Since tools of different weight are required by the electrician, the material of the tool belt should be a good quality one to ensure that it does not hurt the electrician.
2. Plumber's Tool Belt
Plumbers face moist and wet while working and therefore, it is necessary that their tool belt should be made from water-resistant material. Even when using leather material, it should be water resistant one. Since plumbing does not need too many items, tool belt with two to three pouches will be enough for them. But it should be checked that the pouches should be covered ones.
3. Roofer's Tool Belt
Since a roofer work by hanging from roof or wall, he has to carry all his tools together. These should take tool belts made from polyester and nylon material as these are lightweight ones. In order to carry items like nuts, screws, nails, there have to be zipped pockets.
4. Glass Cleaner's Tool Belt
Glass cleaners are known to use glass wiper along with other tools that will not require much space in the belt. Try not to take tool belt which is made from suede leather as glass cleaner might harm them. Therefore, the polyester kind of synthetic fiber is a suitable option.
5. Construction worker's Tool Belt
For this kind of tool belt, plenty of pockets are required in the tool belt. Since construction sites are dusty, the material used to prepare the tool belt should be washable one. Therefore, waterproof leather is the best option.
6. Carpenter's Tool Belt
Carpenters have to carry items like nails and screws, so it is better if the tool belt has several pouch options. Largely sized pouches are a good option for carpenters. Also, a carpenter should use leather or suede leather material to prepare the tool belt. Here, carpenters will be able to look after the safety factor when carrying the tool belt.
7. Painter's Tool Belt
Different size of brushes is what a painter requires. Not too many pouches are required in the tool belt. Two to three of them are enough to work for the painter. While working, the chances are high that the paint might split in the tool belt. So, it is better to opt for washable fabric. In this case, nylon or polyester material will be perfectly suited for this category of the tool belt.
Wrapping it up
Therefore, the tool belt is an important item for workers, and it is also important to choose the right type of tool belt. Considering the practical situation of the workers, the material of the tool belt should be chosen.