What are the Best Waterproof Tool Boxes?
When you think of a portable waterproof tool box, you may imagine a collection of handy tools organized well enough that you can find them whenever you need them.Here is the tips to select best portable waterproof tool box.
These waterproof tool boxes help you to get all the tools you need in one place and you don't have to worry about finding them. It keeps tools sharpened, rust-free and well maintained, also they are very durable and serve you a long time.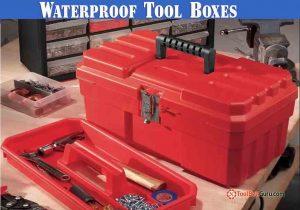 Finding just the right tool box to fit all your needs is important, but with so many options available today it can be a tiring and difficult task. That's why we are here. We have brought you top 10 waterproof tool boxes you can purchase for your work or hobby. Make your purchase today by comparing tool boxes from below
Top 10 Waterproof Tool Box Comparison
Product Name
Water proof
Weight
(Pounds)
Buy Now
1. DEWALT TSTAK VI Deep Box
No
44

Check Price

2. Stanley 28-Inch Structural Foam Toolbox

(Budget Friendly)

YES

10.25

Check Price



3. Plano 1612 Deep Water Resistant Field Box
YES
N/A

Check Price

4. Stanley – Waterproof Toolbox 28 Inch

(Recommended)

YES
10.05

Check Price

5. MILWAUKEE 26 In. Jobsite Toolbox
YES
9
N/A
6. Keter Masterloader Rolling Tool Box

(Small Tool box)

NO
13

Check Price

7.Akro-Mils 9514 14-Inch ProBox Tool Box
NO
1.7

Check Price



8. Anyyion 16.5-Inch Tool Box
n/a
3.75

Check Price

9. Pit Posse – Aluminum Trailer tool box
YES
22

Check Price



10.Giantex 36″ Aluminum Tool Box Truck Pickup
YES
27

Check Price
Top 5 portable waterproof Toolboxes:
This is one of the best toolboxes out there. It's built really tough and has enough internal space to accommodate all your basic tools and also a full complement of related or side items. The box is 17.6" long by 11.75" wide and 11.7" high box. 
They can easily hold up to 20 Kg of your most important tools without cracking, buckling or even twisting. It is really deep as the name suggests. Weights around 2.5 Kg when empty which is really good considering its durability. It has rust resistant metal latches, so you don't even have to worry if the box gets wet.
PROS
Huge space for all your tools
Great balance and no bucking
Removable internal tray for additional space
Flexible platform
Very light
Metal latches
CONS
Plastic made makes security an issue
 Hinges are a bit weak
Stanley 28-Inch Structural Foam Toolbox
Stanley has hit a bulls-eye with this toolbox. This is one of the only few 100% waterproof toolboxes out there. They've surely spent a lot of money designing it because it is so beautifully designed and really well executed. It has a plenty of room for all the basic hand tools one may need with also space for a power drill or even two and it can even fit a circular saw if you arrange them properly.
 Toolbox might get a little heavy but you don't have to worry even if you get caught up in the rain as it even has watertight seal around the lid. It is fabricated from structural foam polymer for some heavy-duty action.This box has full sized metal laches which ensures more safety. It weighs around 4.6 kg when empty. This is our recommendation on best waterproof tool boxes.
PROS
 Provides complete protection in the rain
It has both side and top handles
 Fair price for considering all of its features
 Ergonomic hand lifting recesses
Metal latches
V-groove track that can help secure lumber or pipe
CONS
It might stain a little under full capacity
 Hinges are weak
Sometimes lid doesn't line up easily
Plano 1612 Deep Water Resistant Field Box
Plano gained its popularity right after when they released this beautiful and huge waterproof toolbox. This toolbox might be a perfect but for many of you specially on field professionals. It has got some really big space for all your tools. Plano has a water-resistant O-ring seal all around its lid to make sure not a single drop of water enters it. 
Field box has a secure brass bailed style latch and also a fantastic look. It has a large comfortable handle with a great grip to help you carry it all around your work. This tool box also has a lift out tray if you want to make more space and accommodate power tools. This box is 15" long by 8" wide and 10" high.
PROS
Perfect for someone looking for a huge spaced tackle box
 Heavy-duty toolbox
O-ringed waterproofing
Good handle
More storage space in its lid
CONS
 Perfect for someone looking for a huge spaced tackle box
 Heavy-duty toolbox
O-ringed waterproofing
Good handle
More storage space in its lid
Stanley - Waterproof Toolbox 28 Inch
Well carrying power tools, professional gear hand tools and another medium to large tools was never this easy. Stanley's waterproof 28-inch tool box is a heavy-duty toolbox with foam consisting of thermoplastic resin and flake mica for increased durability and safety of your tools.
 They have a great handle and patented watertight seal to protect all of your equipment and making it ideal for power tools as you would not like to risk them getting wet in any rain or other situation. Its dimensions are 27.3" in length by 11.31" height and 12.48"width.
PROS
Patented watertight seal
 Extra large storage capacity
 Portable tote tray for more space
Tough soft grip handle for easy carrying
Limited warranty
CONS
Could have been more organized
Latches are said to break easily
Considering it foam, might not be the most durable
MILWAUKEE 26 In. Jobsite Toolbox
This toolbox is really fascinating. It is really pretty and well executed toolbox for power tools and stuff that take pretty lot of space. Box can also be called a small storage unit for sure. The handle is really comfortable and fits one's hand easily. 
This is a huge box and if you think it might get a little difficult to lift it through it, you also have end to end handles for ease. It has a removable tray as per your convenience. It has pass through side handles. They have a waterproof seal all around the lid. It weighs just around 4 Kg when empty. This box also goes through impact resistance testing.
PROS
 Quiet a lot of space for big tools

 Removable tray

Pass through side handles are comfortable

 Main handle has good grip and makes it lifting easy

 One of the most waterproof toolboxes out there

Goes under inspection
CONS
 One might not find it difficult to pry open it
An adjustable tray would have been better
No wheels for a big toolbox
Other Popular and Recommended toolboxes
Keter Masterloader Rolling Tool Box
Keter different than most of the companies as they don't make both tool boxes and power tools or rather any other tools. Keter is here for some serious tool boxes and this one shows it. This toolbox is best for people who need to bring all their tools to work on a regular basis. It has a storage capacity of almost 3000 cubic inches inside it. Its best feature is its wheels. 
They are really big and strong and the box moves really smooth even if it is fully stuffed. The box opens up by sliding two halves of its lid for ease and the handle is retractable. It has a weight capacity of 30 Kg and it weighs around 6.75 Kg when empty. It has a central locking mechanism for keeping your tools safe. 
The lid has ball bearing sliders to avoid roughness. This toolbox is a great option for all the professionals from plumbers to electricians.
PROS
Easily mobile for such a huge toolbox
It has a great height for accommodating all your tools
Central locking mechanism is convenient and reliable
Extendable handle
Removable dividers
Resistant to chemical damage
CONS
Too many removable bins
It is watertight but the hinges have little gaps so it isn't 100% waterproof
One must be careful with latch
Some other Small Waterproof Toolboxes
Akro-Mils 9514 14-Inch ProBox Tool Box
This is one of the most popular small tool boxes out there. It has unbelievably large space for such a small box, all thanks to its large optimizable tray. You can take the trays out to create more space for more tools. It has steel latches and an oversized pad lock for security. 
You can carry it easily to places as it has a good handle with secure grip. It is even chemical resistant and even water resistant, well it is a lot to ask in a small box but it has it all. Its dimensions are 14" long by 8.12" wide and 8.12" high.
PROS
 Water and chemical resistant
 Extra large tray optimizes a lot of space
 Good comfortable handle
Durable
 Affordable for newbies
CONS
Not ideal for big tools
 Not for mainstream professional
 Sometimes delivered without the tray
Anyyion 16.5-Inch Tool Box
This 16.5" toolbox is quite simple and lightweight and may be ideal for people who require a tool box for some simple tools or necessary peripherals. It might not be a good option for people working in a construction site as it is really compact and might not hold big power tools, but still, it is a great pick for the DIY'ers and handymen who doesn't require to carry all big fancy tools with them but rather only couple of screwdrivers or wrenches and hammers, duct tape, etc. 
The best thing about waterloo is it is also available in other sixes up to 26" s so if you like this but you need a bigger storage, you have got some great options too.
PROS
 Removable inner tray for optimizing space
 Durable and comfortable handle
Just weighs around 1 kg
 It has flushed top for staking
1-year warranty
CONS
You can'tstore much of your tools
Sometimes reviewed as flimsy
Portable Waterproof Tool boxes for Trucks
Pit Posse - Aluminum Trailer tool box
The Pit Posse trailer storage box is made up of aluminum with great thick walls for the most protection. It is made up of good quality durable aluminum and the hinges are strong too and they really extend the lift of it. It is waterproof so you don't have to worry about your tools getting wet or your truck not being in shade while a little downpour.
 They has a rugged diamond design and is easy to carry as aluminum isn't much heavy. It has some great space for all your tools including big power tools. It is 34" wide at the back, 17.5" wide at front, 18" tall and 20.5" deep.
PROS
Thick aluminum walls allowing most precipitation out
 Good durable hinges
Comes with a locking system and doesn't wobble
Great storage spce
 Light in weight
 Waterproof
CONS
Weak welding in latches
Edges get damaged easily
Might have to seal the lid
Giantex 36" Aluminum Tool Box Truck Pickup
This is one great super light and well-built aluminum toolbox. It is made up of thinner aluminum but is very light but of nice quality and you can easily move it from one place to another. It has a safety lock and it keeps the lid closed while you are at the driving seat. it is durable and waterproof and it will protect your tools from rusting. It doesn't have burrs so don't really have to watch your hands from getting cuts every time. Box comes with a lock and two keys so even if your truck is waiting outside with the tools in it, they will be safe. It also has a great storage space for a lot or rather every tool you have.
PROS
Great storage space
Fully welded
Weather and rain resistant
 Light weight and easy to handle
 Comes with a lock and has an extra key
Blunt edges         
CONS
Edges might get a little bend during shipping
Handles are quite thin and may bend over time
It is waterproof but has no seal around the lid
Things to keep in mind Before Buying Your ideal toolbox
Well Everyone from a professional to an occasional do it yourself kind of people, need a toolbox. Different people use different tools and have different needs to be fulfilled from a toolbox. Well picking up the best portable toolbox is really important. It should have space for all your tools and satisfy your needs.
The most important this is its size and its capacity. Toolboxes nowadays come in every possible need one might have, they come all shapes and sizes. If you don't work with power tools, you might need a smaller lighter box. Make sure to check lineman tool boxes
 If you are a professional and you need to carry your tools every day at work, you need a larger toolbox which should also be easy for you to carry daily. So, you should make a list of all your tools in the beginning so you get an idea for what exactly you are looking for.
Not all toolboxes come with wheels and some are easily portable than the others with different capacities. The last thing you should check is its quality. If you need a toolbox for your home, a light plastic made box will be good but if you work regularly with big and heavy tools, you will need a tough material to hold it long. Buy a metal tool box in this case. Luckily there are a ton of options out there and you will find your ideal toolbox.